Range Rover 1971 "Suffix A"
chassis 35800614A
3.5 litre 4-speed
Masai Red / Palomino PVC trim
Left hand drive car no 614
produced in December 1971
first registered in Finland in January 1972.
two long term owners, for 19 and 15 years
registered on Finnish Historic plates
sold to Netherlands
Nearly 1000 hours of restoration work from 2015 to 2019.
One of the most correct nut and bolt, body off restorations /conservations of an early Range Rover in the world.
Restoration blog here;
https://harriasunta.com//range-rover-classic-614a/
First owned from 1972 to 1990 by Kampin Saha, a timber sawmill located in Lavia, Southern Finland. The sawmill was established in 1862 and acquired by the Kamppi family in 1937.
The present managing director of Kampin Saha Mr Juha Kamppi kindly sent this picture taken in 1975;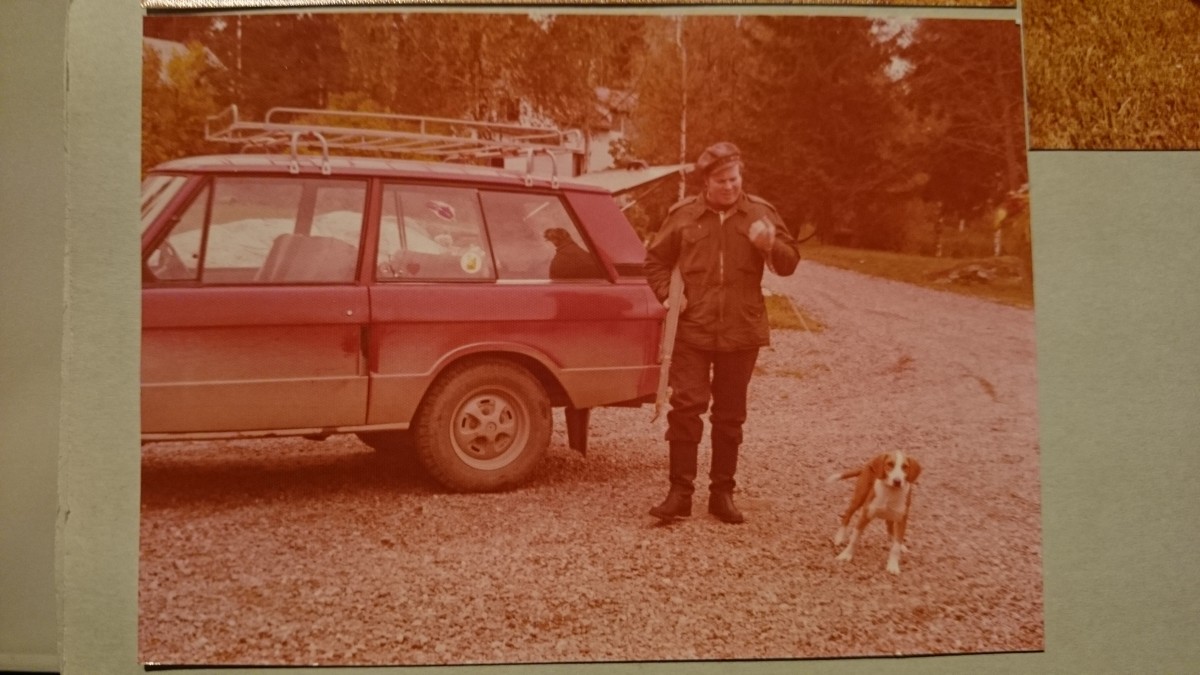 All the subsequent owners of #614A are also documented, the second long term ownership was from 1993 to 2008.
some of the recorded history;
16th Dec 1971 date of build
20th Dec 1971 despatched to Oy Suomen Autoteollisuus AB, the Land Rover importer in Helsinki
01/1972 registered to first owner Kampin Saha Lauri Kamppi & C0, Lavia FI, TNU-49
delivery stamp by Suomen Autoteollisuus, Konala Helsinki FI
01/1972 service 820 kms, Vaunu ja Varaosa Oy
05/1972 service 4556 kms, Vaunu ja Varaosa Oy
08/1982 ownership change Kampin Saha, Mr Pentti Kamppi (generation change), Lavia FI
11/1983 MOT/TÜV roadworthiness inspection
11/1984 MOT/TÜV roadworthiness inspection
12/1985 MOT/TÜV roadworthiness inspection
12/1986 MOT/TÜV roadworthiness inspection
12/1987 MOT/TÜV roadworthiness inspection
12/1988 MOT/TÜV roadworthiness inspection
10/1990 ownership change Mrs E Kamppi, Yli-Putto FI
12/1990 ownership change Mr J Erjo, Sastamala FI
01/1991 ownership change Jag-Auto Oy (British car specialist), Perttula FI
09/1992 MOT/TÜV roadworthiness inspection
09/1992 ownership change Mr L-O Höckerstedt, Ekenäs FI
07/1993 ownership change Oy Vinex Ab – Mr B Kjellman, Esse FI
03/1997 Historic Vehicle inspection and registration, 128132 kms
07/2003 MOT/TÜV roadworthiness inspection
05/2006 MOT/TÜV roadworthiness inspection
01/2007 ownership change Mr B Kjellman, Esse FI
05/2008 MOT/TÜV roadworthiness inspection
06/2008 ownership change Mr L Engström, Ytteresse FI
11/2008 ownership change Mr M Johansson, Purmo FI
11/2008 MOT/TÜV roadworthiness inspection
04/2010 MOT/TÜV roadworthiness inspection
09/2014 ownership change Harri Asunta Oy Ltd, 158349 kms
12/2015 start of restoration /body
12/2017 final restoration starting with engine
10/2018 restoration completed
11/2018 MOT/TÜV roadworthiness inspection, Historic registration, 158468 kms
documentation;
Passport to service, owner's handbook, service in Europe leaflet
1982 registration document / title with 1980's MOT/TÜV inspection stamps
1997 and 2018 Historic Vehicle certificates (museoajoneuvotodistus)
Finnish National Archives documents
British Motor Industry Heritage Trust certificate